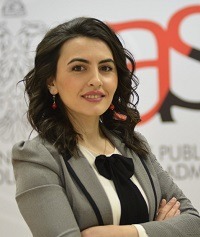 Fatjona Bisheva is a Training Manager at the Albanian School of Public Administration (ASPA). In the period of 2009-2011 she has worked as a School Psychologist and as a Counselling Psychologist focusing on psychosocial problems at the Centre for Democratic Integration and Development. In the period of 2011-2013 she was hired as a Training Specialist at the Training Institute of Public Administration and since 2013 is part of the Continuous Training Department at ASPA.
Fatjona graduated in Psychology from the University of Tirana in 2009, and a year later she completed her Master's Degree in Leadership and Administration in the Field of Education from the same University.
Following her studies, she has successfully attended in 2011 the Positive Psychotherapy Basic Course from the International Centre for Positive Psychotherapy (ICPP and WAPP). She has also obtained a Master of Science degree in 2013 in the field of Public Administration and European Politics from Marin Barleti University.
She has attended several Trainer of Trainers Programmes (ToTs) and has been certified as a trainer in the field of Capacity Building for Access to Structural Funds organized by "Ecorys Academy" in Rotterdam, the Netherlands. She is also a certified trainer in the field of Human Resource Management and in Managing Change in Public Administration from ReSPA, Montenegro.
She has also attended several trainings both at home and abroad in the field of Psychology, Human Resources and European Integration.