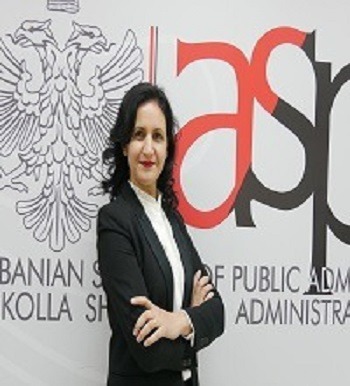 Master Trainer
Ms. Kesjana Halili (PhD) is currently Secretary General at the Institute of Statistics with the main responsibility for the implementation of financial management and control at INSTAT, including planning, implementation, monitoring of the budget, accounting and financial reporting.
During 2020 she has held the position of the General Director of Public Debt and Foreign Aid Coordination in the Ministry of Finance and Economy, where she was responsible for public debt management, minimizing the risks and the total effective costs of financing.
During March 2014-February 2020, Ms. Halili held the position of the General Director of Harmonization Directorate of the Public Internal Financial Control at the Ministry of Finance and Economy of Albania. In this position she was responsible for the harmonization of the regulatory framework, monitoring and reporting of financial management, control, accounting and internal audit in the public sector. Mrs. Halili has a work experience of 13 years at the Ministry of Finance and Economy. She has been working in the General Directorate of Budget for 8 years, where she was mainly responsible for the analyzing of the medium-term budget requests of some public institutions operating in different areas such as Education, Health, Culture etc.
Mrs. Halili has been teaching at the Faculty of Economy, University of Tirana since 2007. Also, as part of her academic engagement she has published several papers and participated in a series of conferences and seminars. The areas of teaching and research are related to financial investments, public finances, internal control, auditing, accounting etc.
Other professional experiences include engagements as a member of the National Accounting Council since 2014, a member of the Registration Authority at the Institute of Certified Auditors of Albania since 2018, a member of the Internal Audit Committee of NOA financial institution since 2018, etc.
Ms. Halili, respectively, in 2004 and 2006, has completed her Bachelor and Master studies in Banking and Finance at the Eastern Mediterranean University of Turkish Republic in the Northern Cyprus. In 2016 she was awarded as a Doctor of Science at the Faculty of Economy, University of Tirana, with a focus of research on internal control systems in the public sector and the impact of internal audit on systems' effectiveness. Also, Mrs. Halili was certified the title of "Internal Auditor" as well as the professional title of the "Certified Accountant".