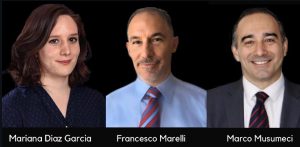 "RISK AND TECHNOLOGY SOLUTIONS RELATED TO ORGANIZED CRIME INFILTRATION INTO THE LEGAL ECONOMY"
The course is an introduction to organized crime infiltration of the legal economy from a global perspective. The course analyses the strategies of organized crime to infiltrate the legal economy, including the risk that some criminal groups will attempt take advantage of COVID-19 to expand their activities. The course also offers an insight of technology solutions, in particular how Big Data Analytics technology can help to identify trends and patterns and better understand how organized crime groups invested their funds.
The course will address the following questions:
– What are the criminal strategies to infiltrate the legal economy?
– How organized crime can take advantage of the COVID-19 crisis?
– What are the risks and opportunities related to technology?
– How Big Data Analytics and Visualization can concretely contribute to monitor and combat organized crime infiltration of legal economy?
– What type of technology solutions can be expected in the future?
Mr. Francesco Marelli PhD (born in Italy in 1968) has worked for the United Nations Interregional Crime and Justice Research Institute (UNICRI) since 2003. As the Head of Unit, he is responsible for assessing emerging risks and identifying, testing and promoting innovative solutions, including in the area of technology such as Big Data, biotechnology, AI and robotics.
He is also responsible for UNICRI activities on CBRN risk mitigation, including the implementation of the European Union CBRN Centres of Excellence, a network-based initiative that supports countries to reinforce their national chemical, biological, radiological and nuclear policy. He received a PhD from the School of History of the University of Leeds in 2002. He is author of several publications.​
Mrs. Mariana Diaz (born in Mexico in 1992) is currently working as an intern in United Nations Interregional Crime and Justice Research Institute (UNICRI) under the framework of the Knowledge Center Security through Research, Technology and Innovation (SIRIO). Her research has focused on the malicious use of social media by terrorist and criminal groups to undermining trust in government during the COVID-19 pandemic, cyber-attacks perpetrated to weaken government strategies that dealt with COVID- 19 outbreaks, and the intentional transmission of the virus. Other areas of research include technology strategies to improve CBRN and WMD defense.
​
Mr. Marco Musumeci is a Programme Management Officer at the United Nations Interregional Crime and Justice Research Institute (UNICRI). He currently manages a portfolio of several projects focused on counterfeiting and organized crime, with activities ranging from research and public/private cooperation to the design of training and awareness materials. He holds a Masters' degree in criminology and international criminal policy and he is co-author of several UNICRI publications.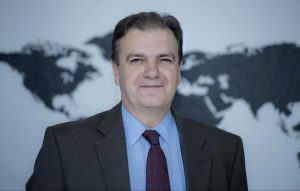 Avni Mustafaj
Meet with Mr. Avni Mustafaj, one of the most influential Albanian Americans in the United States and master of LOBBYING.
National Albanian American Council (NAAC)​​​​, President 1997-2001, NY; Led delegation of US Congressmen and Board members to Rambouillet Summit; Met President Clinton at the White House to strategize on sensitizing US public on Kosova; Coordinated with Senators, Congressmen, State Department officials, National Security Council representatives, think tanks, media, NGO's, and scholars; Appeared on US and international television programs, presented at numerous Universities; Panel speaker on numerous conferences on Balkan issues;
Director, NAAC Hope Fellowship, USAID funded women's leadership and empowerment program, brought over 220 women to DC; Vedat Gashi, NY State District 94, Assembly Candidate, 2018, Campaign Manager; Kosova Relief Fund (KRF)​​​​​​​, NY, Vice President & Managing Director, 1997 – 2000; Oversight on all organizational activities, including program planning, logistics, fundraising activities, media relations and public outreach; initiated community outreach; directed "Stop the Killing in Kosova" campaign, ads appeared in major US newspapers; organized demonstrations, vigils, fundraisers, distributions of leaflet; helped deliver emergency aid in refugee camps in Albania and Macedonia, and Kosova returnees.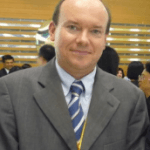 Peter Vandenbruaene
Peter Vandenbruaene is one of the international experts assisting the Albanian School of Public Administration for its capacity building in the framework of the Implementation of Civil Service Reform in Public Administration Project.
Peter Vandenbruaene has worked for the Training Institute of the Belgian Federation of Management (TIFA) for over 20 years. He currently heads the Department of International Relations and is responsible for managing a team of professionals who organize training events in a variety of fields, ranging from personal and communication effectiveness, to Information and Communication Technology, foreign languages ​​and public policy.
As an expert in Human Resource Development, Peter has shared his experience in developing a Quality Oriented Human Resource Development approach while conducting presentations and trainings with civil servants from different countries ranging from Armenia to Tunisia, and from Azerbaijan to Taiwan.
Peter is a lecturer at the University of Ghent, Belgium, and represents Belgium in the Board of Governors of the European Institute of Public Administration (EIPA).
His fields of expertise are:
Quality Training and Teaching;
Human Resource and Career Management;
Public Management;
International Relations;
Training Methodology.
Miha Derganc
Miha Derganc is one of the key international experts assisting the Albanian School of Public Administration in its capacity building in the framework of the Implementation of Civil Service Reform in Public Administration Project.
In the period of 2007 – 2016 he has worked as a trainer at Develor d.o.o and in 2003 – 2006 he was hired as a Human Resources Manager and Board Advisor to Simobil Vodafone. In 1983 – 1999 he has worked at the Nova Ljubljanska Bank, holding various positions, as: Personal Officer, Manager of Human Resources Department where he was responsible for recruitment and personnel development processes and General Manager of Human Resources Department. In the period of 1980 – 1983 he has worked as a School Psychologist and in 1979 – 1980 he has worked as a Research and Career Consultant at the Labour Office in Slovenia.
In the period of 1989 – 2001 he has worked as a part-time trainer at Biro Praxis, providing various training courses in communication, conflict resolution, organizational values, training management, motivation and situational management, etc.
Derganc holds a degree in Psychology from the Faculty of Philology in Ljubljana since 1979. During 2003-2006 he studied for a Master's Degree in Human Resource Management at the Faculty of Social Sciences in Ljubljana. In 1996 he completed the Human Resource Management Program at Harvard University in Boston, USA, attended by approximately 79 human resource managers from all over the world. In the period of 1994 – 1995 he was trained at the Irish Banking Centre in the areas of: organizational development, development of new strategies in the field of human resources, motivation, time organization, etc. In the period of 1992-1996 he has successfully completed 6 trainings of TA levels on "Transactional Analysis".
He holds the Slovenian Certificate of Teaching in Higher Education Programs in Psychology, Organizational Culture, Communication, Organizational Psychology since 2001, Professional Facilitator Certificate since 2004, Emotional Intelligence since 2008, etc.
His experience in the field of training and consultancy includes as follows:
Strategic Vision, Business Strategy and Values seminars
Managerial Skills Development, Change Management
Work and Time Management
Leadership Academy
Situational Leadership
MBO Training
Sales Training and Sales Consultancy
Meeting Management, Team Work
Communications Skills Development (presentations on businesses, trainings on conflict resolution, trainer of trainers, mentors, instructors, etc.
Human Resource Management skills – recruitment and selection, training, interviewing, remuneration and promotion, skills development, internal communication.
Klemen Belhar
Klemen Belhar is one of the trainers assisting the Albanian School of Public Administration in its capacity building and for training the senior management in the context of the Implementing the Civil Service Reform in Public Administration Project. Klemen Belhar is an independent consultant, experienced in training and engaged in various international projects.
He has provided a number of Trainer of Trainers events on topics as the likes of: training needs assessment, professional development system, training skills of judges and prosecutors, and others in various countries, inter alia, in Montenegro, Bosnia and Herzegovina, Turkmenistan, and Moldova. He has also provided training to civil servants on communication and presentation skills, problem solving, teamwork, leadership and various managerial skills.
He is also experienced in the private sector, focusing mainly on the car industry and Information Technology and Communication, where he has combined his role as coach and consultant to assist enterprises in issues such as: strategic decision making, problem solving, improvement of teamwork and changing of organizational culture, an area in which he is an internationally recognized expert.
Klemen has begun his career at the Administrative Academy in Slovenia, where he was initially involved in organizing trainings. In 2001 he started working as a trainer at the School of Rhetoric in Ljubljana, Slovenia, where for a period of about 10 years he has offered various trainings in Communication and Presentation Skills. He has trained participants from various fields of expertise by providing a range of trainings for ministries and public institutions in Slovenia and Croatia.
Klemen Belhar holds an undergraduate degree in Theology, Philosophy and Anthropology and a PhD Degree in Anthropology.
Emira Mitrushi
Emira Mitrushi was involved as a Project Leader and Lecturer at the Albanian Trade Union School, Head of Training and Training Manager at the Training Institute of Public Administration and a trainer at the Albanian School of Public Administration (ASPA). She is qualified as a trainer/lecturer in 1996 by Nykobing Falster, Denmark, and is trained at the Danilograd-based Regional School of Public Administration (RESPA), in relation to training skills and training management. She has received continuous qualifications and trainings in the fields of public administration, such as Human Resource Management, Performance Management, Change Management, Project Management, Communication in Public Administration and others. She is certified as a trainer by ICITAP (in the framework of the Training Program of the State Police Leaders in the field of Human Resources Management). She has over 15 years of experience in Public Administration. She is author of several training materials, such as ToT – Training Skills and co-authore of the Manual/Guide for Trainers, published on ASPA's website. She is currently a trainer with ASPA in the field of Written Communication and a ToT trainer, specialising on Training Skills.
Her slogan as a trainer is: Give importance to participants in the training room, value everyone's experience and make them feel good.
Dolora Gjokutaj
Dolora Gjokutaj has served as a Training Manager since 16 years, both at the Institute of Public Administration Training (TIPA) and the Albanian School of Public Administration (ASPA).
Currently she holds the portfolio of the Assistant to the Council of Europe Project on Strengthening Local Government Structures and Cooperation with Local Elected Representatives in Albania.
She has been engaged as a Council of Europe local expert at the Albanian School of Public Administration (ASPA) for training Local Government Units, using the E-PAV electronic platform system.
She has collaborated with experts on the design and implementation of training programs in specific fields, with the aim of gaining as much knowledge and skills as possible for performing tasks, such as: (Tax and Tariff System, Water Supply, Finance and Budget Procedures, Public Property Management, European Integration, Gender Budgeting, Drafting and Communication of Official Papers, EU Funds Management, Financial Mechanisms for Albania), etc.
She has been trained in many institutions, such as: The Hague Academy of Local Government, The Netherlands, ReSPA-EIPA, Montenegro, NISPA-cee, Bratislava, Slovakia, ENNA-Paris, France, Lomonosova University School of Public Administration, Moscow, Russia, Institute of Public Administration, Canterbury, London, England, Training Institute, Dublin, Ireland, Warsaw, Poland, National School of Governance, Berlin, Germany.
She is certified by ICITAP as a Human Resources Trainer for the State Police, organized by the US Department of Justice.
She has collaborated with UNDP, SOROS, SIDA, GTZ, GIZ, WORLD BANK, OSCE on project design and implementation.
She is the author of several project proposals and applications for some projects for Local Government Units.
She is a textbook author, high school textbook opponent, and an associate of the Institute for the Development of Education.